(recorded on April 9, 2020)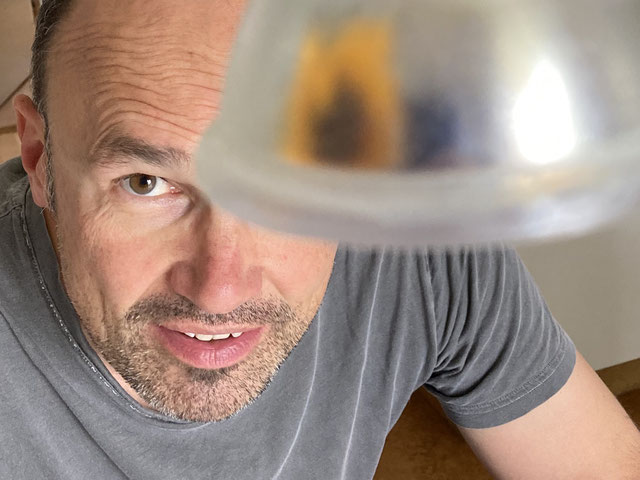 CHRISTIAN GRÜNY
studied philosophy and linguistics in Bochum, Prague and Berlin, got his PhD in Bochum and his postdoctoral qualification (Habilitation) at Witten/Herdecke. His background in the philosophy of Theodor W. Adorno an in phenomenology led him into two directions: on the one hand towards a phenomenology of pain and the problems of violence and torture, on the other hand towards aesthetics and the philosophy of music which remains his main field of research until today. grueny.info
(The picture of the episode is from Christian's website.)
You could have guessed from the first episode on: Marije and Simon have an inclination towards "hammer philosophy", indulging in their proto-knowledge. That's one of the reasons why we are very happy about today's guest.
With philosopher Christian Grüny we practice "fabrication of thoughts while talking", following our associations on performance, philosophy, thinking as practice, (re)presentation and much more.
We shortly present Christian to our listeners and speak about his work, especially about his work as performer** and about lecture performances in general – from this we drift into reflections about the relation between representing and presenting, talking, writing, performing, academics and artists – about form and content and how they inform each other, about artistic strategies, academic realities, and if there is something like artistic research.
Surprisingly we have a lot of fun! Maybe due to Beckett staying with us in the background, smoking and laughing.
**We speak about Christian's performances: "The Gesture of the Form", especially from minute 17:00 and Resonanz und Wiederholung
Simons microphone sounds very crappy throughout the whole episode, sorry for that.
---
We are happy to receive any (constructive) feedback and criticism, corrections, comments, questions and notes: whiteroom (at) whiteroom-pod.com. You can also comment below. We will try to reflect on this input in the podcast.
You can support the podcast by subscribing to it and by becoming a producer, if you like. A small regular contribution already makes a big difference.